The Cheapest Butterfly, Karambit, and M9 Bayonet Skins in CS:GO
The holy trinity
The Father, the Son, and the Holy Spirit. Red, green, and blue. Rock, paper, and scissors. Butterfly Knives, Karambits, and M9 Bayonets. One of those four groups is more important to the average CS:GO player than most people - I don't think we need to tell you which.
The three beloved knives have been in the game for as long as we can remember, and they remain classics, with most people wanting one of the three in their loadout.
Their price tags definitely reflect their popularity, with Karambits, M9 Bayonets, and Butterfly Knives being some of the most expensive in the game. Take the Tiger Tooth skin for example, if you wanted that on a Gut Knife, it'd cost you just $80 in Factory New condition, or even on a Huntsman Knife it'd cost you just $140. Factory New Tiger Tooth on an M9 Bayonet? Oh that'll be $300, please, sir. A Karambit? $50 more, $350. And a Factory New Tiger Tooth Butterfly Knife? Well that's a bit north of 4 big ones ($400).
I think you get the point, these popular knives aren't cheap. Thankfully, you've stumbled upon an excellent article - Total CS:GO has looked at hundreds of knives and picked out the best cheap Karambits, M9 Bayonets, and Butterfly Knives for you to feast your eyes on. Check them out below.
1

.

★ M9 Bayonet | Scorched (Battle-Scarred) View Skin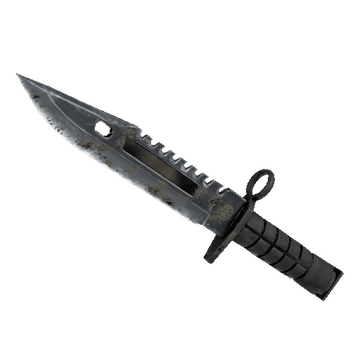 Starting off with the definitively cheapest M9 Bayonet in the world - the M9 Bayonet Scorched. Quite frankly, we're surprised that this is cheaper than the Safari Mesh, Forest DDPAT, and Boreal Forest - in our opinion, the Scorched M9 Bayonet is a lot better than those three. The dark gray coating is simple, but on a knife like the M9 Bayonet it looks nothing short of menacing. The scratches that come along with the Battle Scarred condition only add to the fearsome vibe it gives off.
2

.

★ Karambit | Night (Minimal Wear) View Skin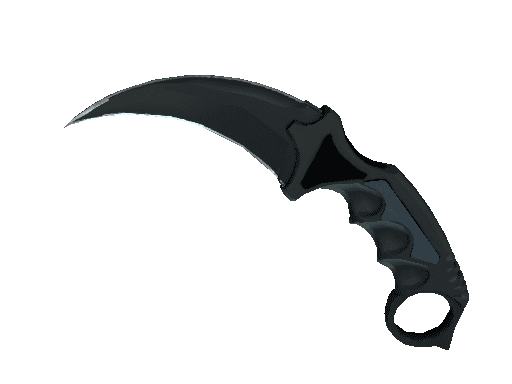 Heh, cheap Karambit is a bit of an oxymoron, isn't it? At least that's what we thought before we stumbled upon this beauty. We're not too sure why the Karambit Night is historically so cheap, but we do know that it can't be because of its looks. If you want this in Factory New, it's gonna cost you quite a bit, but in any other condition, prices can drop to numbers below $200, and even get close to $100!
3

.

★ Butterfly Knife | Urban Masked (Minimal Wear) View Skin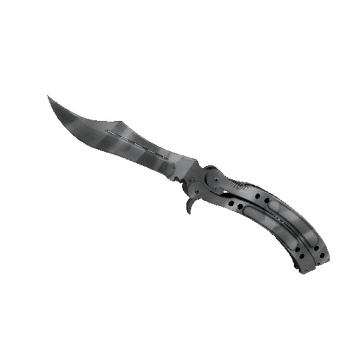 Everyone looks at the Marble Fades, Crimson Webs, and other fancy designs, but forgets about the straightforward but agreeable skins like the Urban Masked. Although it isn't the fanciest, it definitely isn't the worst, and it's one of the best-looking cheap Butterfly Knives you can get on a tight budget.
4

.

★ Karambit | Scorched (Field-Tested) View Skin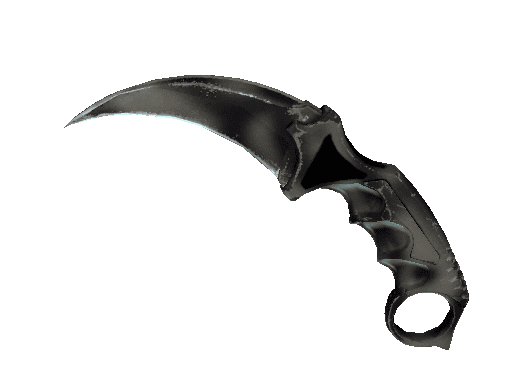 This is the second Scorched skin making an appearance in this list and it doesn't take much thinking it work out why (because they look pretty darn good and they're pretty darn cheap). We've chosen to put the Field Tested condition Karambit Scorched in this article, but if you're a fan of the rustic look, the scratches from the Battle Scarred condition compliment this knife pretty well. Whichever condition you go with, at the end of the day, it's a Karambit. When you're in-game spinning it around your finger like a fidget spinner, you're probably not even going to notice which skin is on it.
5

.

★ M9 Bayonet | Ultraviolet (Minimal Wear) View Skin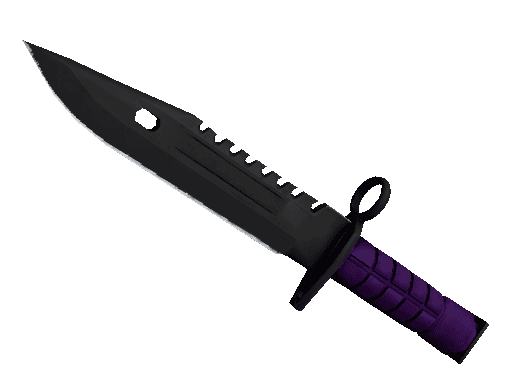 The Ultraviolet consists of two main colors - matte gray and purple - but they go together like peanut butter and jelly. Try to think of a better combination than those two, we bet you can't. Unlike the Scorched skin, we think that the Ultraviolet looks best in higher conditions: Minimal Wear or Factory New. Minimal Wear is going to cost you about 2x more than Battle Scarred (at about $200), but it's for sure worth it. That said, if you are on a really tight budget, it's not worth getting Field Tested or Well Worn - you should just embrace the rugged look and go for Battle Scarred.
6

.

★ Butterfly Knife | Crimson Web (Well-Worn) View Skin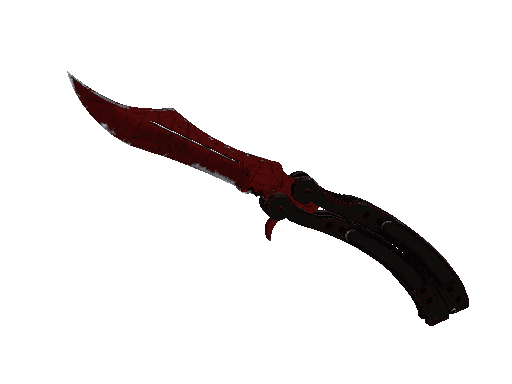 A lot of the knives that are cheap have the same set of dull colors: gray, black, or some sort of dull green or cream. This knife doesn't fit that narrative, and thankfully, lower condition Crimson Webs aren't too pricey. The Butterfly Knife Crimson Web in Well Worn condition carries a price tag of about $220 on third-party markets, so it's perfect for those on a mid-sized budget. So if it fits your budget, and you're a fan of spider man, the color red, or bad ass skin inspect animations, the Butterfly Knife Crimson Web is for you.
7

.

★ M9 Bayonet | Slaughter (Minimal Wear) View Skin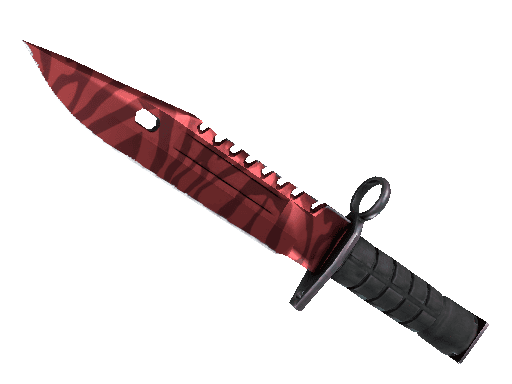 If you're going with a cleaner skin like the Slaughter, you've gotta get it in Factory New or Minimal Wear. Since this is a cheap skins article, we've opted to include the Minimal Wear condition, as it will save you almost $100 when picking it over the Factory New. The pattern on this blade really is something else: almost like a tiger, but matte red toned. We think that the print might've been originally colored like a tiger, and years of usage have tainted it blood red. Regardless of how those beautiful reds go on the blade, it looks damn good, and isn't priced like the other colorful skins. Check it out if you get the chance.
8

.

★ Karambit | Case Hardened (Battle-Scarred) View Skin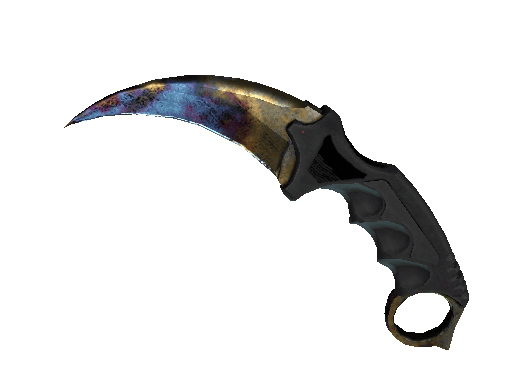 Unlike most other skins, as Case Hardened skins wear, few scratches appear on the edges of the blade, but their pattern tends to darken and blemishes appear. This means that lower conditioned Case Hardened skins tend to not look as worn as most would think they actually are. Take a look at the one in the picture above - you wouldn't think it's battle scarred (but it is). If you know you want a Karambit, you're on a budget, and you know you don't want something plain like a Safari Mesh, the Case Hardened is your best option. Generally, the Case Hardened is cheaper than all of the other colored skins on a Karambit, and it looks good too. If you're not a fan of the way Battle Scarred condition makes the knife look, you can bump it up to Minimal Wear for less than $75 in most cases.
9

.

★ Butterfly Knife | Safari Mesh (Battle-Scarred) View Skin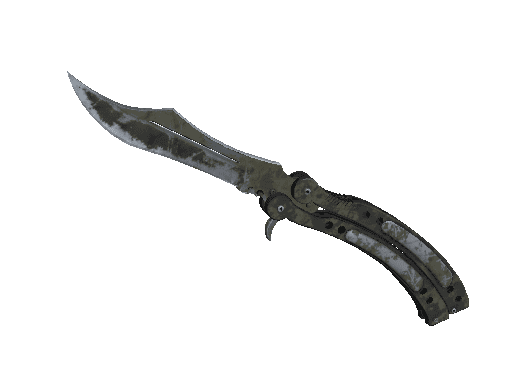 You didn't think we wouldn't include a Safari Mesh, did you? A cheap skins article without a Safari Mesh is like a Batman without a Robin. We've chosen to include the Safari Mesh Butterfly Knife for two reasons. Firstly, it doesn't look too bad - yes, it isn't the most photogenic, but I'm sure we could think up a lot more knife designs that look a lot worse than this. Secondly, it's cheap. In fact, it's the cheapest. We know some people on a limited budget still want to be able to admire that awesome inspect and draw animation that the Butterfly Knife carries. If that's all you're looking for in a knife, or don't care too much about the colors on it, and are trying to spend the least amount of money possible, the Safari Mesh Butterfly Knife is the best option for you.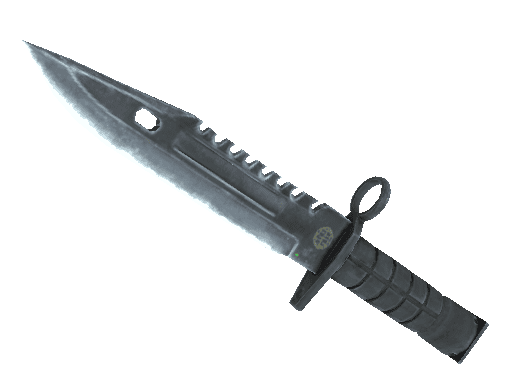 Everyone's going to have their opinions about the coloring and patterns on skins. Some people will love colorful designs, some people will hate them. Some people are a fan of the scratches that lower conditions bring, and others detest them. But one thing that the majority of people agree on is that the Vanilla skins (skins without any design or condition) don't look half bad. If you're a person of simplicity and aren't looking to flaunt a colorful knife about, the Vanilla M9 Bayonet is for you. You just can't go wrong with a knife like this.
If you have a suggestion for us, or if there's a problem with this article (e.g. it's outdated or not working for you), please let us know via one of the buttons below.