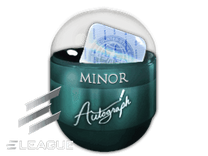 All CS:GO Autograph Capsules
Below is a searchable list of all autograph capsules from Counter-Strike: Global Offensive. Includes capsules from the latest tournaments, prices, and inspect links. When opened, autograph capsules yield a random sticker signed by a professional CS:GO player. Visit a capsule's item page to see the signed stickers that are possible to obtain from it.
Use the "Card" and "Table" buttons to change how autograph capsules are displayed. Sort by price, quality and date added using the "Sort By" dropdown.