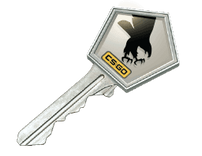 All CS:GO Case and Container Keys
Below is a searchable list of all case and container keys from Counter-Strike: Global Offensive including current market prices and more information. Newly purchased keys are no longer tradeable.
Use the "Card" and "Table" buttons to change how items are displayed. Click "View Key" to view detailed information about a specific key, including which container it opens.