List of the Rarest & Most Expensive CS2 Knives
Put the car up for sale, you're gonna need the cash...
When it comes to skins in Counter-Strike 2, then knives are the crème de la crème - the best of the best. They are the ultimate status symbol, as no other skins consistently cost so much, nor change your inventory, quite like a knife does.
Which means our list of the most expensive CS2 knives is looking at the most elite of an already elite club. These are the rarest and most expensive knives in CS2 and are sure to leave an impression on anybody you play a game with.
1

.

★ M9 Bayonet | Crimson Web (Factory New) View Skin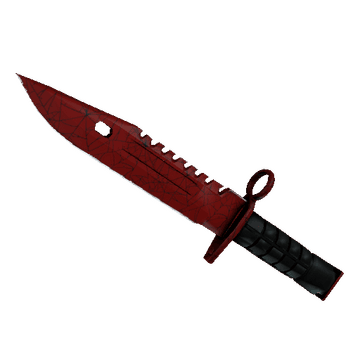 One of the rarest and most expensive skins in CS:GO is the M9 Bayonet Crimson Web Factory New. This isn't because of rare patterns that can form when you unbox the knife, or how the color of the knife is distributed (though you can get crimson webs that show more webs than others). This knife earns its price through - simply - looking incredible. You'll find most CS:GO players agree that the jet black handle set next to the pristine, blood-red blade is one of the most attractive finishes in the game.
It's hard to put an average price on a knife this rare, but you'll likely be paying upwards of $3,500 for this skin.
2

.

★ Karambit | Doppler (Factory New) View Skin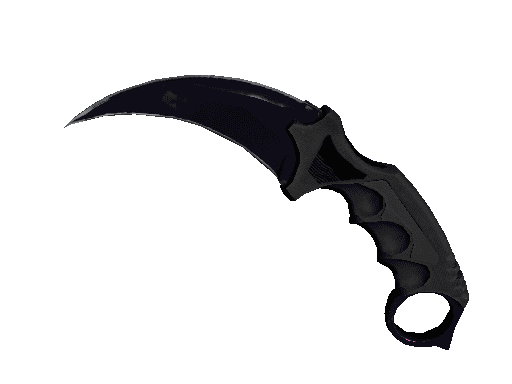 The Ruby pattern is a rare type of Doppler skin, where the usual whirl of colors is replaced by a single, fabulously shiny color instead. For the Ruby, that color is a magnificent red. As you can see from the image, this looks incredible on the Karambit.
Due to how not only is this a Factory New Karambit, which is rare in itself, but also a rare version of one, the Ruby Dopplers are up there with the rarest knives in the game. This knife typically has a price of at least $1,500.
3

.

★ M9 Bayonet | Doppler (Factory New) View Skin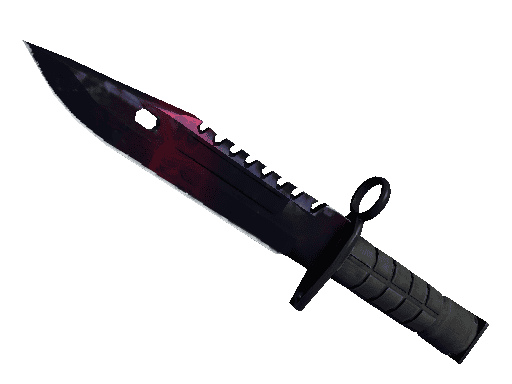 The Sapphire pattern is an exceptionally rare variant from the Doppler series of knives. It finishes the knife in a deep, glossy blue and is one of the rarest types of knives in CS:GO.
Throw that on a canvas like the M9 Bayonet and you have something truly special. A heavy blade that glistens in the sun and has the kind of prestige and eye-turning factor that only the most uncommon skins possess. You'll be needing to spend in the region of $2,500 if you want to pick this gem up.
4

.

★ M9 Bayonet | Gamma Doppler (Factory New) View Skin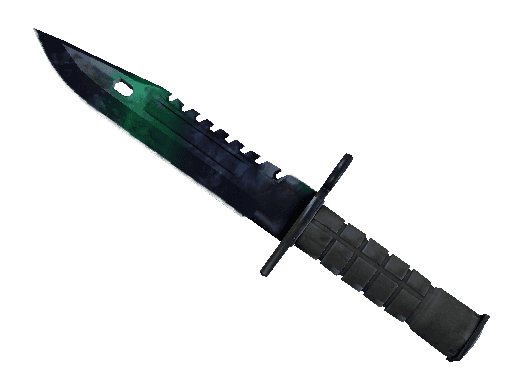 The Sapphire and Ruby variants of the Doppler knives have existed for years, but the Emerald version of the Gamma Doppler is a bit newer. But no less rare.
Like its other gem cousins, this skin is a very rare type of the Gamma Doppler. It covers the knife its on - in this case the M9 Bayonet - in a glittering green that will have even the biggest critic of recycling "go green."
These knives will typically sell for anywhere from $2,750 and above.
5

.

★ Karambit | Case Hardened (Factory New) View Skin
Perhaps the rarest knife in the whole of CS:GO is this gem. This Blue Gem, to be more precise. The Case Hardened series of skins include an array of colors including yellow, gold, purple and blue. Randomly assorted in each skin, it'd be fair to say that no two Case Hardened skins are the same.
The rarest of these is the Blue Gem Case Hardened. Characterized by being overwhelmingly blue on the play side, these knives are incredibly hard to come by, and their price tag reflects that.
Prices on this skin varies massively. At the lowest end, Blue Gems will cost you between $500-$1,000. At the top end, this can extend all the way from $5,000 - $10,000, and beyond in the rare cases.
6

.

★ Butterfly Knife | Marble Fade (Factory New) View Skin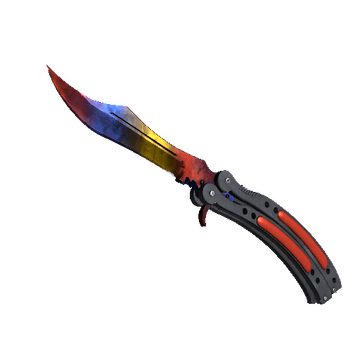 Never seen one of these in-game? We're not surprised; the Butterfly Knife Marble Fade Factory New is a rare skin in CS:GO due to it being the most desirable condition and in an attractive finish.
Picking up one of these beauty's will cost you anywhere from $600 to $900.
7

.

★ M9 Bayonet | Night (Factory New) View Skin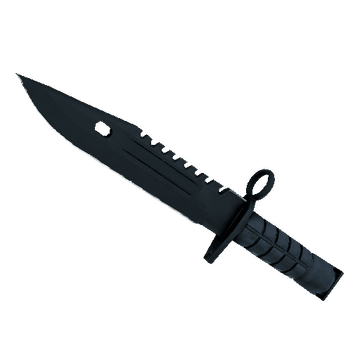 The Night series of skins always looks incredible. But there's only one thing more badass than a jet black finish, and that's a flawless jet black finish. Factory New Night skins always cost a lot and are hard to find, and the M9 is at the peak of that summit.
Already known as one of the most sought after knives in the game, if you want to furnish yours with this immaculate black - that is truly as dark as the night - then you'll need to shell out $750 to $1,000.
8

.

★ M9 Bayonet | Ultraviolet (Factory New) View Skin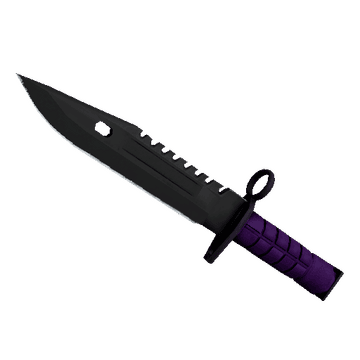 If you wanted to see what a match made in heaven looks like, then we have an example for you. Purple handle. Jet black blade. These two fuse perfectly to make one of the nicest looking skins in the game. And oh, it's a pricey one.
As an intensely rare skin, it's tough to find an M9 Bayonet Ultraviolet Factory New to purchase. If you do, then expect to pay at least $1,000, though the price will vary massively from seller to seller.
9

.

★ Karambit | Crimson Web (Factory New) View Skin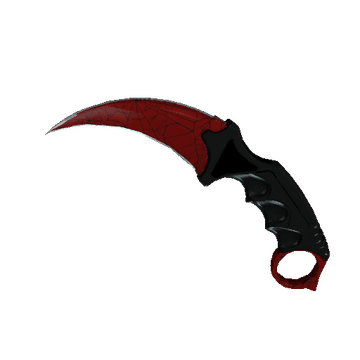 When it comes to the most expensive knife in CS:GO, the Karambit will often be in contention. With a curved blade and mesmerizing animations as you draw and use the knife, it is truly in a class of its own.
The same can be said for the Crimson Web pattern. Uniquely deep in its colors and with a contrast in the red and black that you won't find elsewhere, it's the fusion of two masters of their categories.
The result? A knife that will cost upwards of $1,500 - $2,000 and solidify your inventory as the envy of all your friends.
10

.

★ M9 Bayonet | Lore (Factory New) View Skin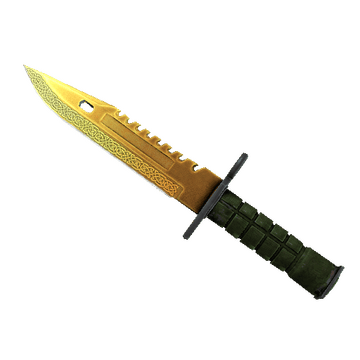 As soon as it came out, the Lore pattern was one of the most desired in CS:GO. And, of course, this made any Factory New variants of the skin rare the instant they were unboxed.
As it often does, the M9 Bayonet led the charge with what kind of knife CS:GO players wanted to see the finish on. It's one of the more expensive knives in CS:GO, with a price tag of at least $1,000, and is just as rare as that price tag would demand.
11

.

★ Stiletto Knife | Crimson Web (Factory New) View Skin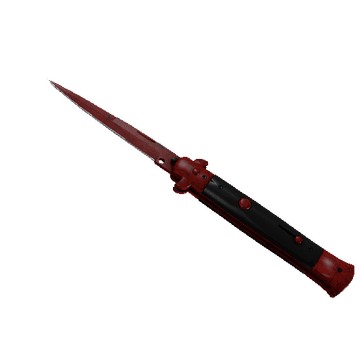 When you're thinking of the rarest knives in CS:GO, the Stiletto Knife might not spring to mind. But in actual fact, the Stiletto Knife Crimson Web Factory New is a rare sight indeed, and will entice you the moment you set eyes on its slender frame that displays the natural combo of red and black in all its glory.
It's also one of the most expensive CS:GO knives. You'll typically need to pay at least $1,500 to call this knife yours.
12

.

★ Bayonet | Slaughter (Factory New) View Skin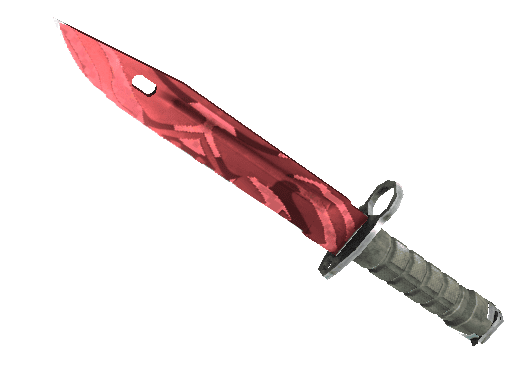 The Slaughter series of skins in CS:GO is just like the Case Hardened in how they can have a wide variety of patterns on display. One of the most wished for is the Diamond pattern. This is where you'll be able to discern a diamond pattern in the red splashes that decorate the blade; it is the rare finish to an already rare knife skin.
Slaughters may have taken a drop in popularity with the influx of so many new skin finishes in the last few years, but these rarity's are still likely to be priced a decent bit above market price, in the region of $500 - $1,000.
13

.

★ Karambit | Marble Fade (Factory New) View Skin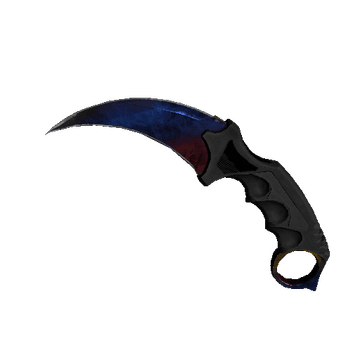 The Marble Fade series of knife skins is nice on its worst day, so wait until you hear about what people love to look for in them.
The Fire and Ice Marble Fade is defined as being entirely made up of Red and Blue on the playside of the knife, with no yellow being visible as it is on most Marble Fades.
This is one of those skin types where you're banking on a rare version of something that is already rare - a Factory New Marble Fade - so its uniqueness cannot be overstated. For that reason, you'll probably be needing to pay around $1,000 to own one of these, though this can fluctuate massively depending on the seller and the float value / pattern of the knife.
14

.

★ Bayonet | Fade (Factory New) View Skin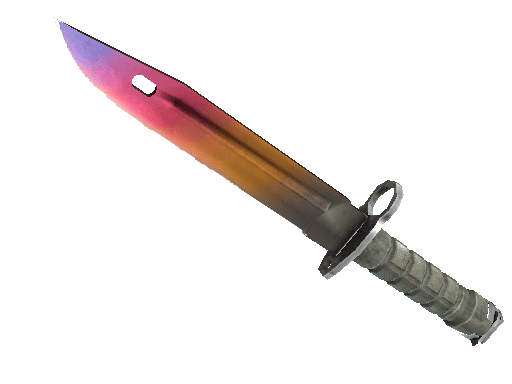 What is 100% Fade? It's the name given to skins in the Fade family that display the entire spectrum of colors possible. It should show the yellow, dark red and blue colors along the whole knife, with no grey colors visible. The tip of the knife will contain a good amount of blue on it.
This is the rarest and most desirable type of Fade knife. You should be able to pick this up for $300 - $500 dependent on the level of Fade on the knife.
If you have a suggestion for us, or if there's a problem with this article (e.g. it's outdated or not working for you), please let us know via one of the buttons below.